Warren County Genealogical Society
Warren County, Ohio
Chapter of Ohio Genealogical Society
Clearcreek Township Cemeteries

(513) 695-1144


406 Justice Drive, Lebanon, Ohio 45036
Hours: 9 AM-4 PM Monday through Friday
Driving Directions

wcgs@co.warren.oh.us


| | | | | | |
| --- | --- | --- | --- | --- | --- |
| | | | | | |
This page contains a clickable map of the cemeteries in Clearcreek township adapted from the information provided by Randy Fuson of the Data Processing GIS Department of Warren County, Ohio. Click on the appropriate cemetery in Warren County and you will be redirected to the cemetery transcription page. We are in the process of digitizing all the headstones from each cemetery in the county. The digital images have been loaded on the Warren County GenWeb Site. If you would like further information regarding a cemetery listed here, please contact our research department.
<![if !vml]>

<![endif]><![if !vml]>

<![endif]><![if !vml]>

<![endif]><![if !vml]>

<![endif]><![if !vml]>

<![endif]><![if !vml]>

<![endif]><![if !vml]>

<![endif]><![if !vml]>

<![endif]><![if !vml]>

<![endif]><![if !vml]>

<![endif]><![if !vml]>

<![endif]><![if !vml]>

<![endif]><![if !vml]>
<![endif]><![if !vml]>

<![endif]><![if !vml]>
<![endif]><![if !vml]>

<![endif]><![if !vml]>

<![endif]><![if !vml]>

<![endif]>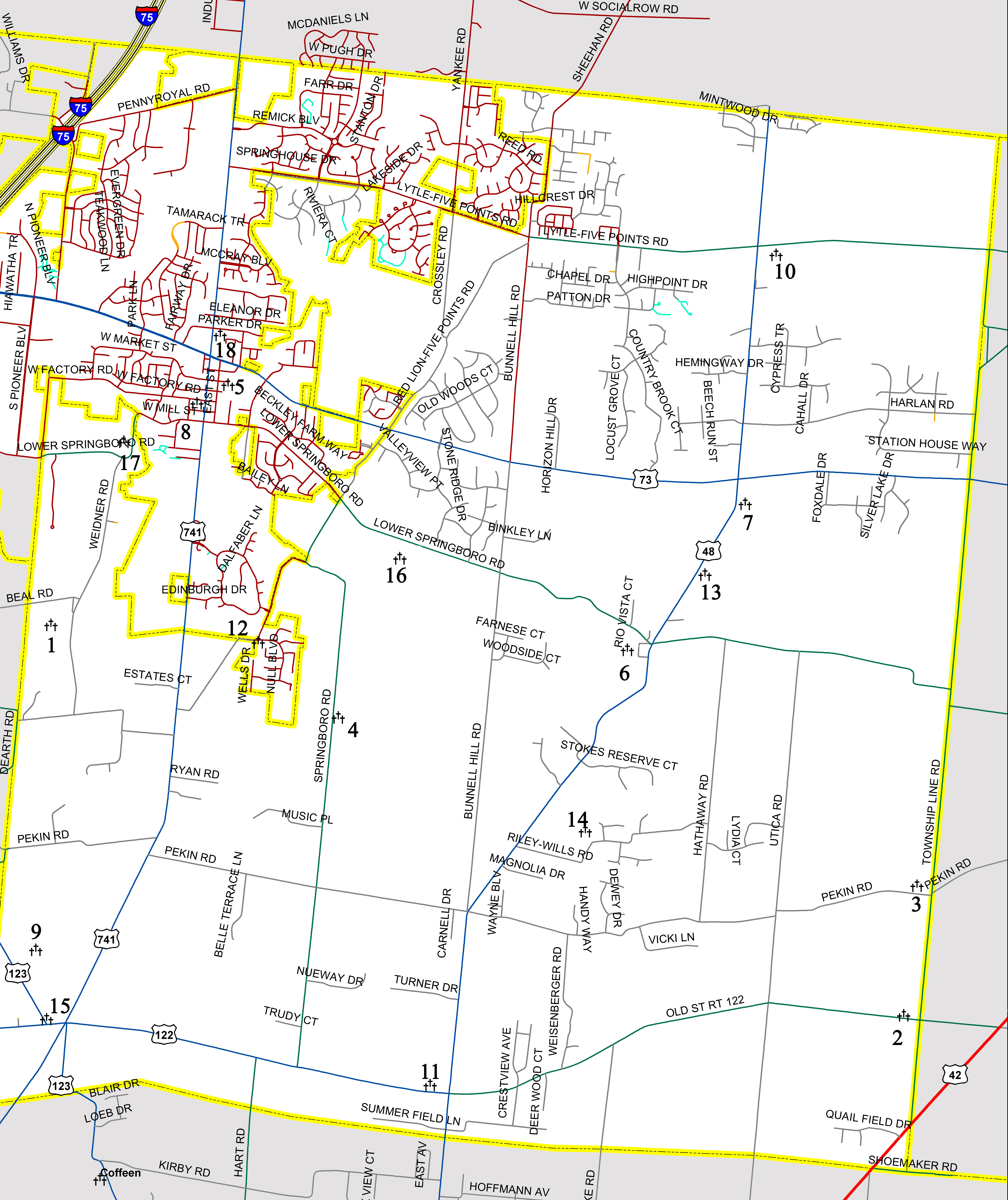 Other Possible Cemeteries
This short history of the Clearcreek Township cemeteries of Warren County, Ohio listed below is taken from the book "Paths through the Wilderness: Stories from the Springboro area" by Don Ross, which is available for use in the WCGS library.
There are 18 historic cemeteries in Clearcreek Township. That designation traditionally indicates initial burials before the Civil War, and final burials before World War I. Several of these historic cemeteries are township responsibilities. The Friends Cemetery on Factory Road is still maintained by the Quaker Church. A cemetery association supervises the huge Springboro Cemetery. Other are gone forever. The Hicksite Quaker Cemetery was located under the present parking lot of the IGA. Family history indicates that some Null family burials may have occurred under the 17th tee of Heatherwood Golf Course. There are rumors of family plots in the woods and fields east of Springboro. A small burial ground for African Americans is reportedly somewhere on the south side of West Lower Springboro Road. The ones that are left are in various stages of car and condition. But they are rife with human lessons and information.

Whether one is interested in the artistry of those who chiseled headstones … a walk through any of the old burial grounds can offer insights and education concerning the drama of life … and death.
As you can see from our list below, we have not been able to distinctly identify all the burial grounds in this township. If you have information, histories, locations, or pictures of the headstones for Clearcreek Township, please contact WCGS.
©2006-2011 Warren County Genealogical Society
For non-commercial use only
This page was last updated on 11/18/11