Warren County Genealogical Society
Warren County, Ohio
Chapter of Ohio Genealogical Society

Salem Reformed Church Cemetery
Clearcreek Township

(513) 695-1144


406 Justice Drive, Lebanon, Ohio 45036
Hours: 9 AM-4 PM Monday through Friday
Driving Directions

wcgs@co.warren.oh.us


| | | | | | |
| --- | --- | --- | --- | --- | --- |
| | | | | | |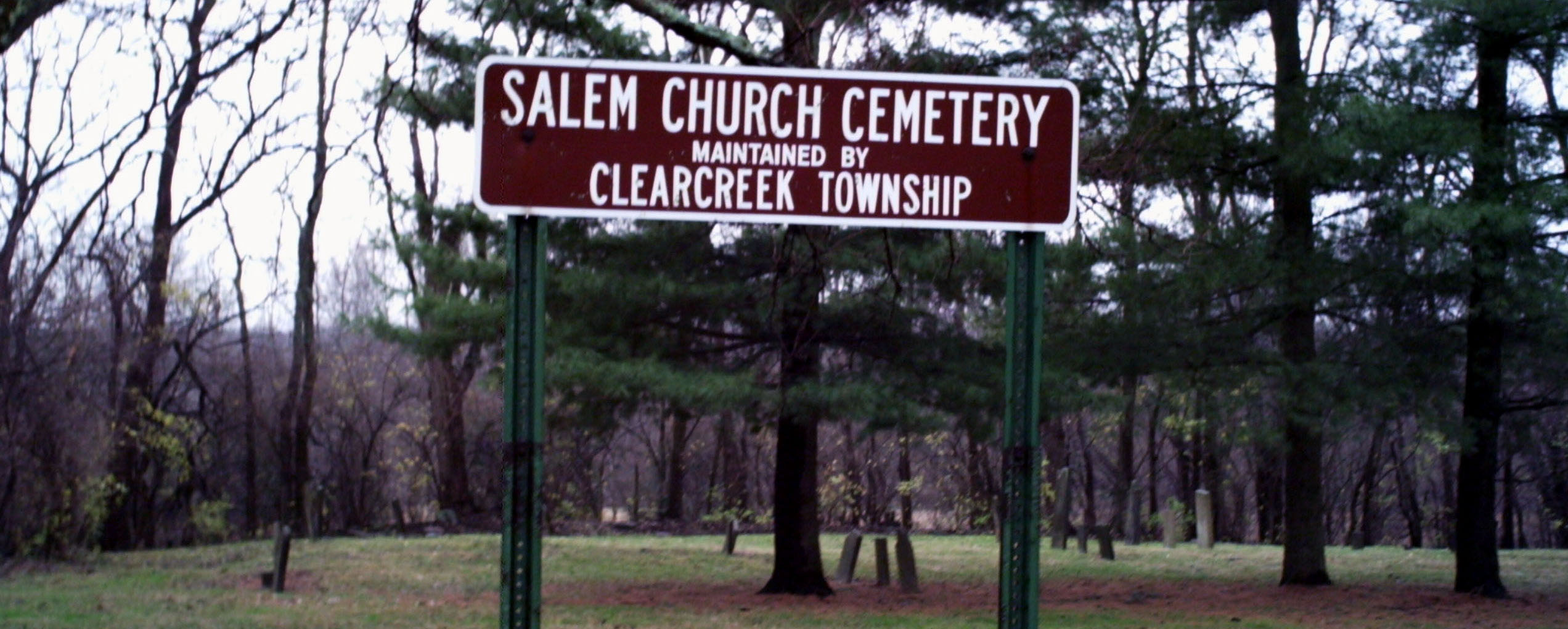 This online index only lists the individual, death date (if known) and reference page. We are creating a master index of everyone who is buried in this county and their burial location to aid researchers. We are especially in need of people buried here who have no stones or whose stones no longer exist. If you have any of this information or if you have additional information for anyone who is buried in this cemetery, please email the Warren County Genealogical Society.
Cemetery Name

Salem Reformed Church Cemetery

Variant Name(s)
German Reformed Church Cemetery

Township

Clearcreek

Status

Inactive

First Known Burial

1821

General Condition

Average Maintenance

Tombstone Condition

Fair

OGS Cemetery #

12209

Location:

East side of Craiglaw Lane, South of Lower Springboro Road between Red Lion Five Points Road and Bunnell Hill Road. (Craiglaw Lane dead ends into a house). As you drive from Lower Springboro Road on Craiglaw Ln t

he cemetery is on the left before you reach the end of the road.

Coordinates:

39° 32' 14.15" N, 84° 12' 29.02" W

STR/ VMD

Section 6, Township 3 East, Range 4 North

Property Account:

0143331

Parcel ID:

08064000130

Map:

GIS Map of Location Plat Map Township Map

Cemetery History

Maintained by Clearcreek Township. This was the second site used by the German Reform group. The first burial is unknown but the earliest recorded on the tombstones are for Thomas McLane and Adam Sellers who both died in 1821. Thomas McLane, Adam Sellers, Reverend John Surface and Teter Kesling are all interred here. Charles Null who died in 1844 is buried under a large evergreen.

Cemetery Transcriptions

D.A.R. TURTLECREEK CHAPTER:
Early Vital Records, Vol. 4 pp 62-63; Vol. 10 pp 91-92.
WARREN COUNTY GENEALOGICAL SOCIETY:
Unpublished--will be included in Vol. 13
This cemetery was photographed in Dec 2004 by Dana Palmer & Philip Stanfield. 58 of the 73 known burials dating from 1821 to 1888 were found plus 12 footstones, numerous stone fragments and some illegible gravestones.

Gravestone Images

Gravestone photos for the Warren County, Ohio Virtual Cemetery Project are being posted to the Warren County OHGenWeb Project
To view images ===> Salem Reformed
To submit images ==> email to Arne H. Trelvik at atrelvik@gmail.com [please send high resolution digital images if available]

E F G H I J K L M N O P Q R S T U V W X Y Z

The Warren County OHGenWeb Site is providing a place to post tombstone photos for Warren County Cemeteries. To submit images of tombstones in this cemetery, click here.
| | | | | | | | |
| --- | --- | --- | --- | --- | --- | --- | --- |
| Photo # | Deceased | Year D | Military | Cemetery | Vol | Page | Twp. |
| | -?- | 1845 | | Salem Reformed Church | photo | | Clearcreek |
| | -?- [broken stone] | 1849 | | Salem Reformed Church | photo | | Clearcreek |
| | ----, ---- | | | Salem Reformed Church | photo | | Clearcreek |
| | -?- [broken stone] | 1848 | | Salem Reformed Church | photo | | Clearcreek |
| | ----, Catharine | | | Salem Reformed Church | photo | | Clearcreek |
| | ----, John M. | | | Salem Reformed Church | photo | | Clearcreek |
| | P. ? [footstone] | [no dates] | | Salem Reformed Church | photo | | Clearcreek |
| | S. ? [footstone] | [no dates] | | Salem Reformed Church | photo | | Clearcreek |
| A | M. A. [footstone] | [no dates] | | Salem Reformed Church | photo | | Clearcreek |
| | F. B. [footstone] | [no dates] | | Salem Reformed Church | photo | | Clearcreek |
| B | Boger, Catharine | 1846 | | Salem Reformed Church | photo | | Clearcreek |
| | Boger, Catharine (Wine) | 1865 | | Salem Reformed Church | photo | | Clearcreek |
| | Boger, David | 1861 | | Salem Reformed Church | photo | | Clearcreek |
| | Boger, Frederick | 1836 | | Salem Reformed Church | photo | | Clearcreek |
| Need photo | Boger, Gordon | 1852 | | Salem Reformed Church | DAR | | Clearcreek |
| | Boger, John H. | 1852 | | Salem Reformed Church | photo | | Clearcreek |
| | Boger, Mary | 1859 | | Salem Reformed Church | photo | | Clearcreek |
| | Brewer, Isabell | 1859 | | Salem Reformed Church | photo | | Clearcreek |
| | Burner, John | 1826 | | Salem Reformed Church | photo | | Clearcreek |
| C | Culler, Jacob | 1829 | | Salem Reformed Church | photo | | Clearcreek |
| | Cussins, Rosannah | 1868 | | Salem Reformed Church | photo | | Clearcreek |
| E | Elbert, Craemer, Charlotte | 1852 | | Salem Reformed Church | photo | | Clearcreek |
| | Elbert, Edward N. | 1852 | | Salem Reformed Church | photo | | Clearcreek |
| | Elbert, Henry | 1851 | | Salem Reformed Church | photo | | Clearcreek |
| | Elbert, Luesa C. | 1851 | | Salem Reformed Church | photo | | Clearcreek |
| E | Fudge, Christian | 1826 | | Salem Reformed Church | photo | | Clearcreek |
| | Fudge, Elizabeth | 1828 | | Salem Reformed Church | photo | | Clearcreek |
| K | Kauffman, Catharine Margaret | 1840 | | Salem Reformed Church | photo | | Clearcreek |
| Need photo | Kessling, Elizabeth | 1829 | | Salem Reformed Church | DAR | | Clearcreek |
| | Kesling, John | 1815 | | Salem Reformed Church | photo | | Clearcreek |
| | Kesling, Teter | 1841 | Rev War. | Salem Reformed Church | photo | | Clearcreek |
| | Kessling, William G. | [no dates] | | Salem Reformed Church | photo | | Clearcreek |
| Need photo | Kuger, Samuel | 1848 | | Salem Reformed Church | DAR | | Clearcreek |
| | Kurfiss, Clarance O. | 1867 | | Salem Reformed Church | photo | | Clearcreek |
| | Kurfiss, Mary Ann | 1868 | | Salem Reformed Church | photo | | Clearcreek |
| | Kurfiss, Rosa Ann E. | 1868 | | Salem Reformed Church | photo | | Clearcreek |
| L | M. L. L. [footstone] | [no dates] | | Salem Reformed Church | photo | | Clearcreek |
| | Lipp, Jacob | 1846 | | Salem Reformed Church | photo | | Clearcreek |
| | Lipp, Jacob J. Sen. | 1846 | | Salem Reformed Church | photo | | Clearcreek |
| | Lipp, Rebecca Jane | 1846 | | Salem Reformed Church | photo | | Clearcreek |
| | Lipp, William | 1846 | | Salem Reformed Church | photo | | Clearcreek |
| | Long, Mary Lavina | 1848 | | Salem Reformed Church | photo | | Clearcreek |
| M | M. M. [footstone] | [no dates] | | Salem Reformed Church | photo | | Clearcreek |
| | McLane, Thomas | 1821 | | Salem Reformed Church | photo | | Clearcreek |
| | Miller, Edgar C. | 1855 | | Salem Reformed Church | photo | | Clearcreek |
| Need photo | Miller, Joseph C. | 1855 | | Salem Reformed Church | DAR | | Clearcreek |
| | Miller, Laura Ann | 1855 | | Salem Reformed Church | photo | | Clearcreek |
| | Miller, Margaret | 1835 | | Salem Reformed Church | photo | | Clearcreek |
| N | Null, Charles | 1841 | | Salem Reformed Church | photo | | Clearcreek |
| | Null, Mariah | 1845 | | Salem Reformed Church | photo | | Clearcreek |
| | Null, Mary (Sellers) | 1824 | | Salem Reformed Church | photo | | Clearcreek |
| | Null, | | | Salem Reformed Church | photo | | Clearcreek |
| P | C. J. P. [footstone] | [no dates] | | Salem Reformed Church | photo | | Clearcreek |
| | Pence, Cynthia Jane | 1844 | | Salem Reformed Church | photo | | Clearcreek |
| | Pence, George | 1824 | | Salem Reformed Church | photo | | Clearcreek |
| S | Sellers, Adam | 1821 | | Salem Reformed Church | photo | | Clearcreek |
| | Shaar, Christopher | 1831 | | Salem Reformed Church | photo | | Clearcreek |
| | Surface, Adam | | | Salem Reformed Church | photo | | Clearcreek |
| | Surface, Andrew | 1854 | | Salem Reformed Church | photo | | Clearcreek |
| Need photo | Surface, Elizabeth | 1849 | | Salem Reformed Church | DAR | | Clearcreek |
| Need photo | Surface, John M | 1853 | | Salem Reformed Church | DAR | | Clearcreek |
| | Surface, John (Rev.) | 1866 | | Salem Reformed Church | photo | | Clearcreek |
| | Surface, Mary | 1888 | | Salem Reformed Church | photo | | Clearcreek |
| | Surface, Mary M. | 1858 | | Salem Reformed Church | photo | | Clearcreek |
| T | D. T. [footstone] | [no dates] | | Salem Reformed Church | photo | | Clearcreek |
| | J. T. [footstone] | [no dates] | | Salem Reformed Church | photo | | Clearcreek |
| | P. J. T. [footstone] | [no dates] | | Salem Reformed Church | photo | | Clearcreek |
| | Tresslar, Delilah | 1838 | | Salem Reformed Church | photo | | Clearcreek |
| W | H. W. [footstone] | [no dates] | | Salem Reformed Church | photo | | Clearcreek |
| | J. W. [footstone] | [no dates] | | Salem Reformed Church | photo | | Clearcreek |
| | T. W. [footstone] | [no dates] | | Salem Reformed Church | photo | | Clearcreek |
| | Weisenberger, Hannah | 1855 | | Salem Reformed Church | photo | | Clearcreek |
| | Weisenberger, Susana Magdalena | 1842 | | Salem Reformed Church | photo | | Clearcreek |
| | Welty, Catharine | 1839 | | Salem Reformed Church | photo | | Clearcreek |
| | Welty, Emerentha | 1855 | | Salem Reformed Church | photo | | Clearcreek |
| Need photo | Welty, Ferissa | 1838 | | Salem Reformed Church | DAR | | Clearcreek |
| | Welty, John | 1841 | | Salem Reformed Church | photo | | Clearcreek |
| | Welty, John Jr. | 1854 | | Salem Reformed Church | photo | | Clearcreek |
| | Welty, Samuel L. | 1857 | | Salem Reformed Church | photo | | Clearcreek |
| | Wood, Margaret E. | 1853 | | Salem Reformed Church | photo | | Clearcreek |
| Z | Zerfasz, Elisabeth | 1841 | | Salem Reformed Church | photo | | Clearcreek |
| Need photo | Zerfasz, Jacob | 1831 | | Salem Reformed Church | DAR | | Clearcreek |
| | Zerfasz, Phillip | 1856 | | Salem Reformed Church | photo | | Clearcreek |
| Need photo | Zerfasz, Susanna (Harpine) | | | Salem Reformed Church | DAR | | Clearcreek |
| Need photo | Zimmerman, Catherine | 1845 | | Salem Reformed Church | DAR | | Clearcreek |

©2005-2010 Warren County Genealogical Society
For non-commercial use only
This page was created 8 April 2005 and last updated on 03 February 2011